---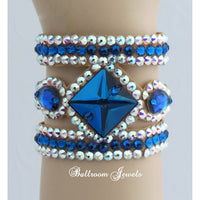 These stunning blue crystals are no longer made.  We have 1 bracelet in stock and then this can no longer be made.
This bracelet is 2 inch wide with a Velcro connection and is a stunning combination of Blue and AB crystals.
This beautiful design has several large crystals that create a stunning pattern. The different size crystals add sparkle as you move. 
This has a rubberized backing that keeps it from moving around while you dance. The stones in the bracelet are not attached with any metal fittings so that it will not snag your costume or your partners. This design will match any dress that you own because it has flesh tone background the only thing visible are the crystals.
 It will have terrific sparkle on the stage or the dance floor. Great for competitions, showcases, performances or just a night out dancing!