---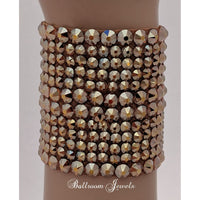 This bracelet is approximately 2 1/2 inches wide and is our most popular. This bracelet attaches with Velcro and is very comfortable to wear!
This is a large statement bracelet made with two different size stones to give it extra sparkle. It will fit an average size wrist (5 1/2 - 6 inch)
The stones in the bracelet are not attached with any metal fittings so that it will not snag your costume or your partners. This bracelet looks fantastic on the dance floor! 
It will have terrific sparkle on the stage or the dance floor. Great for competitions,showcases, performances or just a night out dancing!