---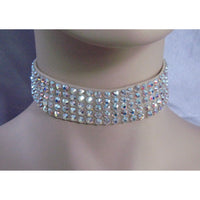 This necklace is 1 inch and is lined in dance fabric that is soft comfortable against the skin, it is not stiff or scratchy.  The crystals are not attached with any metal fittings so that this choker will not snag your costume or your partners. This design will match any dress that you own because it has flesh tone background the only thing visible are the crystals. 
Please contact us for sizing.   First measure your neck with a tape measure so you know the size of your neck.  This measurement will be the snug fit of your choker.  If you want it to fit looser, you may want to change size to allow extra room for comfort.  
Please measure your neck carefully. The size listed will fit snugly if you want a looser fit, please go up to a larger size. 
It will have terrific sparkle on the stage or the dance floor. Great for competitions, showcases or any performance